Preferences - Storyboard
Preferences - Storyboard tab
Storyboard options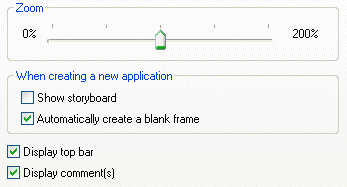 Zoom
Indicates the default zoom factor of the storyboard editor, from 0% to 200%.
When creating a new application
Show storyboard
If selected, the storyboard editor is automatically displayed when you create a new application.
Automatically create a blank frame
If selected, a blank frame is created when you create a new application.
Display top bar
Displays the information bar on the top of the storyboard window.
Display comments
Displays the comments for each frame. Unselect this option if you have a lot of frames to display.
Spread the word!


You can share this document using the following buttons.