Faulty Flap Tutorial
Introduction
This tutorial was written by:
Olivier Behr
---
Welcome to this tutorial where you will learn step by step how to create a Flappy Bird-like game. There are several ways to develop such a game with Clickteam Fusion. This tutorial presents techniques that are both simple and effective so that it is within the reach of the widest range of users.
Time to complete:
Everyone works at their own pace, but we think most people will complete this tutorial in the following times.
These timings are only estimates.
Beginner:
3 hours
Intermediate:
2 hours
Advanced:
1 hour
Prerequisites:
Any version of Clickteam Fusion 2.5: Free, Standard, Developer

The Build R285.2 or higher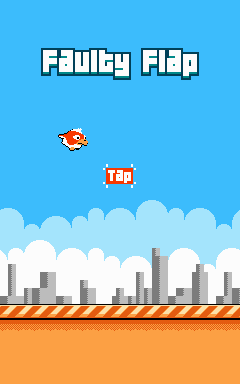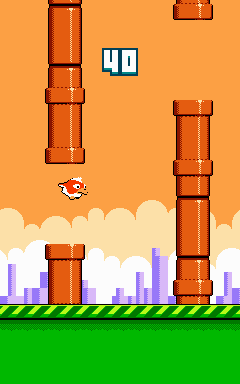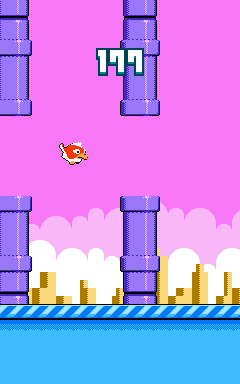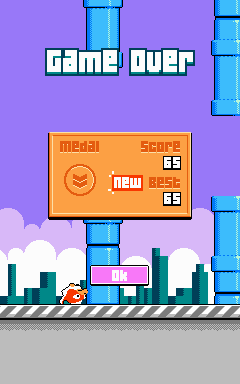 In this tutorial:
Game is framerate-independent
Game is suitable for various display ratios
Game runs under all runtimes: Windows, Mac, iOS, Android, HTML5, Flash
No extension or fastloop required
3 types of object: Active, Counter, Quick Backdrop
1 type of movement: Bouncing Ball
Logical game flow using groups of events: Init, Intro, Play, Outro
Endless horizontal scrolling by wrapping the position of objects from one side of the play area to the other
Objects pairing (parent/child)
Social features with Google Play and Game Center
Further information:
Find all the support files for this tutorial in Clickteam Fusion > Tutorials > Faulty Flap.
This includes the .mfa source files of the completed game, the .wav files used for the sound effects as well as the .png files used for the social features.
All the assets provided with this tutorial (code, graphics, sounds) may be used in any Fusion-based project, commercial or not. However the assets themselves may not be resold.
Further reading:
If you find this tutorial useful, you might like to look at the following items too.
Downloads:
Spread the word!


You can share this document using the following buttons.