Volunteer
Volunteer
Clickteam needs your help to make Library a success. More and better documentation is always welcome. The built in help file provides users with the basics on each feature and function of Fusion. It does a great job of saying this is what X does. But it doesn't go very deep into the why's. The Library.Clickteam.com project is designed to do just that. And we hope we can find a few brave souls among our beloved users to help achieve this.
How can you help!
We are in need of a few excellent users to volunteer to fill in documentation here on Library. The work would envolve initially taking the help documentation, and moving into library while expanded on each item. A example would be the String object which the help documentation starts describing by saying...
"The String object displays text that you can edit and format in a variety of ways. You can display one sentence or several paragraphs depending on your needs. Text in all fonts, sizes, and colors is possible, and the movement, visibility, and position of the text is easily changed."
That is a fairly decent description. However what could be added to the overall documentation on String that explains why we use it, what situations is it useful. etc. We believe these might be the elements that can help bridge the understanding of Fusion in general faster and easier to a larger audience.
We are also looking for users that want to add walkthroughs, tutorials and other forms of Fusion releated documentation. If interested we ask you to shoot out a e-mail to the following address! volunteer@clickteam.com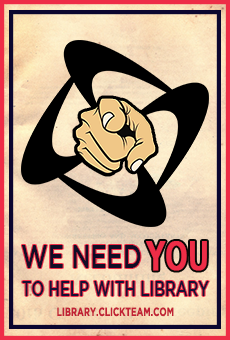 Spread the word!


You can share this document using the following buttons.